Little Fockers
Kids bring everyone closer, right?
Little Fockers, or Meet the Parents: Little Fockers, is a 2010 comedy film that is the last installment of the Meet the Parents films. The movie includes the original cast Ben Stiller, Teri Polo, Robert De Niro, Blythe Danner, Owen Wilson, Dustin Hoffman and Barbra Streisand with the addition of a Jessica Alba, Kevin Hart, Harvey Keitel, and Laura Dern. It is directed by Pete Weitz and was released in both the US and UK on December 22, 2010. Although critics panned the movie for its lackluster and formulaic plot, it was a blockbuster hit, grossing $310.7 million at the box office.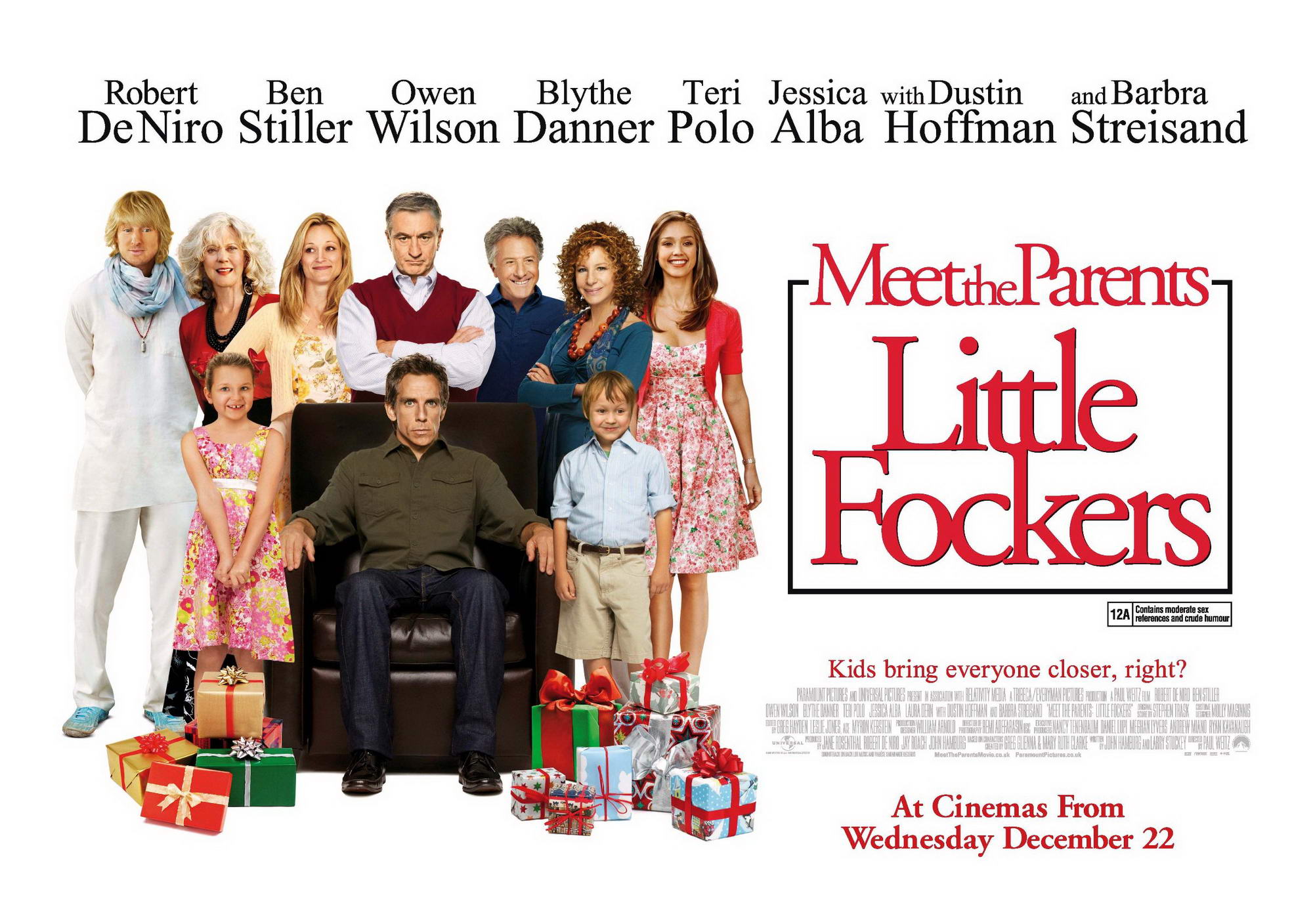 PLOT SUMMARY
Following after Meet the Parents (2000) and Meet the Fockers (2004), Little Fockers happens five years later with Greg (Ben Stiller) and Pam (Teri Polo) living happily with their five-year-old twins. As Jack (Robert De Niro) is disappointed at his daughter's divorce to Bob, who was originally appointed successor to the family, he appoints Greg as the "Godfocker" instead. But trouble ensues when Jack becomes suspicious of Greg when the latter takes a job at a drug company, where beautiful Andi Garcia (Jessica Alba) works. Can Greg clear himself of Jack's suspicions and prove himself worthy to become the Godfocker, or will the circle of trust forever be broken?
SYNOPSIS
As the Fockers are busy preparing for their twin's fifth birthday, Jack (De Niro) pays them a visit. Still bitter over the divorce of Debbie, his daughter, and Bob, who cheated with a nurse, Jack decides to make Greg the new successor of the Byrnes family, anointing him the "Godfocker". Despite being given the new position, Jack still spies on Greg, and his suspicions are raised when he sees Greg with Andi Garcia (Alba). The suspicion grows even further when Jack discovers Sustengo erection pills in the Fockers' house.
The Fockers with the Byrnes take the kids for an evaluation at a military school, and while the twin girl did great, the boy had difficulty. Jack, already agitated, was quick to compare the boy to his father. After an accident at the school, they take the boy to the hospital where Jack tells Pam to divorce Greg and marry Kevin, who still holds a torch for her all this time. An argument ensues between Jack and Greg.
Greg, wanting to vent off, didn't go home straight but instead went to their still-in-construction new home. Unfortunately, Andi shows up there too, bringing food and liquor. She gets herself drunk and forces herself on Greg. Greg, though, was fighting her advances. Jack, who went to the house to apologize to Greg, saw everything by the window, storms out of the place.
The following day is the twin's birthday, but Jack is still angry at Greg's supposed infidelity, so he challenges him to a physical fight, which ended in Jack having a heart attack. Greg looks after him until the paramedic arrives. Jack finally admits that he believes Greg is telling the truth while checking his carotid artery, and in the end, bestows him the Godfocker title.
Fast forward four months and the Fockers are in chaos in their new home as both sets of parents announce that they're moving in near the Fockers' home to be closer to their grandchildren.
RECEPTION
With a production budget of $100 million, the film was a hit as it earned $310.7 million at the box office. However, critics had a different take on the movie. From its lazy plot to its predictability and the unfunny sense of humor, Little Fockers was a disappointment even going as far as receiving a 9% Rotten Tomatoes rating.
EXPANDING THE LITTLE FOCKERS FRANCHISE INTO ONLINE GAMBLING
The Little Fockers franchise has been a beloved part of pop culture for years, with its unique blend of humor, family dynamics, and memorable characters. It's a brand that has resonated with audiences worldwide, and it's time to consider expanding its reach into new and exciting territories. One such opportunity lies in the burgeoning world of online casinos. By creating Little Fockers themed slot machines and live casino tables, we can tap into a new market while offering fans a fresh and engaging way to interact with their favorite franchise.
Online casinos have been on the rise for the past few years, with millions of people logging in every day to try their luck. They offer a variety of games, from slot machines to poker, and have become a popular form of entertainment for many. By introducing Little Fockers themed games, we can attract a new demographic of players who are fans of the franchise and are looking for a unique gaming experience.
Imagine a slot machine game that features the beloved characters from the Little Fockers universe. Each spin could reveal a different character, with special bonuses and jackpots tied to specific combinations. The game could also include memorable quotes and scenes from the movies, adding an extra layer of nostalgia and fun for the players.
But the possibilities don't stop at slot machines. Live casino tables are another popular feature of online casinos, and they offer a unique opportunity for branding. We could create Little Fockers themed live casino tables, where players can engage in their favorite games while immersed in the world of the Fockers. For instance, a themed Teen Patti table could feature a dealer dressed as one of the characters, with the table and cards adorned with images and quotes from the movies. Teen Patti Live Casino Games has quickly become one of the most popular online casino games, especially in India.
This would not only provide a unique gaming experience but also serve as a marketing tool for the franchise. Every time a player logs in to play, they would be reminded of the fun and humor of the Little Fockers movies. This could potentially drive interest in re-watching the movies or purchasing related merchandise, creating a beneficial cycle of engagement and revenue.
Moreover, the online casino industry is a global market, which means that the Little Fockers franchise could reach fans in corners of the world where the movies might not have been as widely distributed. This could open up new opportunities for fan engagement and brand expansion.
In conclusion, branching out the Little Fockers franchise into online casinos could be a win-win situation. It offers a unique and engaging gaming experience for fans, serves as a marketing tool for the franchise, and taps into a growing and lucrative market. It's an opportunity worth exploring, and one that could bring a new level of success to the beloved Little Fockers brand.